Daryl Hall & John Oates: The Oral History Part 2
In our previous instalment, pop masters DARYL HALL & JOHN OATES TOOK us through their early years that led to their debut album. In Part 2, they give THOMAS PATTERSON the scoop on working with legendary producer Arif Mardin, and the wild cover of their fourth LP…
---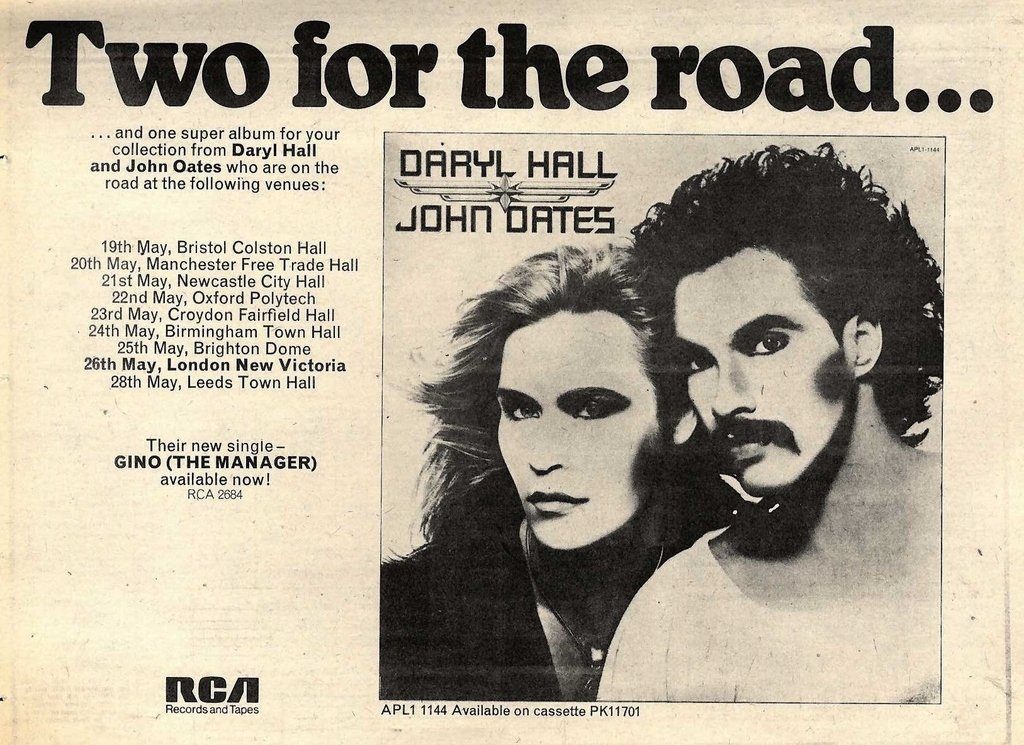 JOHN OATES: The first album (Whole Oats) was a collection of stuff that Daryl and I had lying around and it really was not a true collaboration, just some of Daryl's songs, some of my songs, and maybe one or two primitive versions of a collaboration. That's all Arif had to work with initially so he did, and he made a very nice album, very acoustic, very singer-song writer. He kept us as artists in the foreground and surrounded us with a very musical arrangements and a tasteful, simple production, which was perfectly suited to the style of the songs we had written at the time. And that was the first lesson I think he had imparted. Serve the song. The song is going to dictate how the record should sound, but of course much more in-depth lessons would follow as we got into the Abandoned Luncheonette album, which was an album that we wrote in a compressed period of time, in a one year period. So it had more coherency and focus and there was more collaboration and there was more interplay between Daryl and I. The Whole Oats album was technically our first album but Abandoned Luncheonette album was really our first album, because it was the album where we wrote for a purpose and it really had a point of view.
This was the beginning of the tutelage under Arif Mardin where we really began to understand how to make a record and how he made his records. That was really what that experience was about. First of all, we had better songs, we had more aggressive songs in some regard and his approach to those songs, he surrounded us with the cream of the crop of New York studio musicians who could bring out what it was that we had written. To this day, when I do my recording session in Nashville, I conduct them exactly the same way Arif did the Abandoned Luncheonette album. It's been a template for me for my whole career.
I can't over express how important his guidance and style and his sense of musicianship affected me and Daryl.
When it came to the musicians on the album, we had Christopher Bond, who had been in our touring group at the time, and we knew we wanted him in our camp because he's a really good guitar player and he was an early advocate and dabbler in synthesisers, which we were also using at the time. And so he was really the only guy in our camp who we brought in. The rest of the musicians were chosen by Arif, based on the songs that he was hearing. He would play him the songs in the raw form and in his mind he started to assemble the cast of musicians who he felt were appropriate for the song. And even today, when I'm in Nashville, with the cream of the crop of the world's musicians at my disposal, it's not about who's the best guitar player or who's the best drummer, it's about who's the right guitar player or the exact right drummer for that particular drummer for the song. So again, the lessons I learned from him, I'm still utilising today.
DARYL HALL: He was one of the greatest people I've ever worked with. He was a true musician, truly creative, and truly understanding. The line up that happened during the first album, he had just produced 'You're So Vain' by Carly Simon, or arranged it, he'd just done 'Young, Gifted And Black' by Aretha and then he did us! And that after that it was The Average White Band. He was very very versatile, and I learned to speak a lot of musical languages from him. A lot of what I do, say on Daryl's House, I learned from him. He was my mentor. I can't say enough good things about Arif. He was a wonderful, kind, intelligent and sensitive musician.
And it was a real scene, where people would be going in and out. One day Bob Dylan would be coming in, and I'd sit there during a session, and the next day Donny Hathaway would walk in a sit with us. Aretha would be in and out, Dr John, on and on and on. It was real scene, it was fantastic, we were in heaven, we hanging with the big boys. It was a really creative environment, and the players too. All the top players in New York were involved in these things and on our records too.
I wrote a song called 'Abandoned Luncheonette' and I think the lyrics, now I look at it, were sort of prescient. And we decided that would be a good title for the album. My grandmother and grandfather lived outside in Philadelphia and across the road from them was this abandoned diner that had been moved from across the river. And I thought, here we are, we have a good visual. And we went along and we sort of just broke into it. The cops came, but we managed to get pictures before we were thrown out of there, and that's what you see on the cover.
It was a rare golden age in music. Ahmet Ertegun said to us, "Just do whatever you feel like doing. Don't worry about commerciality, just do it. Just do what you feel." Now what head of a record company says that anymore? I took him at his word, so we said we're just going to experiment around and do things. And they were very tolerant about it all considering some of the things we were coming up. But it was one of these times when you were allowed to fail and do these things, and discover yourself as a musician. I don't know how much that exists nowadays.
Having recorded the Abandoned LuncheonetteLP, Daryl Hall and John Oates recorded their wild and wonderful third album War Babies for Atlantic, before parting ways with the label and signing with RCA, who would issue their eponymous fourth album. Wildly known as the Silver Album, it featured an eyebrow-raising cover that showed off the boys in an outrageous new light…
DARYL HALL: It was our decision to leave Atlantic for RCA. Not Atlantic's.
JOHN OATES: It was our manager being greedy and wanting to make more money. RCA didn't really have a lot of artists, they weren't doing well, and there was an opportunity.
DARYL HALL: And I think the spirit of War Babies is still in our blood. Trying to be subversive and do something unexpected. During that Lou Reed period, I was hanging out with the Stones and all that. The guy who was the make-up artist, he was called Pierre LaRoche, and I had no idea what he was going to do and neither did John. And the next thing we knew, we were in make-up and that's what you see.  At the time I thought it was outrageous but we were into being outrageous.
JOHN OATES: Again, take into consideration the time and the era that the Silver Album came out in.  You had Rick Derringer, you had Mick Jagger, you had Bowie, you had Todd Rundgren, all on their album covers with feathers in their eyebrows and glitter on their eyelids etc etc. In New York it was very au courant to be glam rock, and the androgynous thing was happening. We're all living in the village, we're all caught up in the whole scene, and we ran into Pierre LaRoche, the stylist who had invented that style. I remember him saying, "I want to do an album cover with you guys. I will immortalise you!" Those were his exact words and boy was he right.
People didn't know what to think, they couldn't figure it out, because the album cover had nothing to do with the music inside. In a way we did a 180. We had done three albums where the album cover was part and parcel of the style of the music inside and now we had flipped the script and done something outrageous. But put it this way, it's pretty much the only album cover that anyone ever talks about, so in a way, if you just look at it in a purely analytical way, I guess it was very successful.
DARYL HALL: That was an odd time for music because it had polarised. Music doesn't often polarise, at least not in my career and lifetime of music and it did then in the '70s. There were riots, rock vs. disco, and in my opinion that was a racist thing. What is disco and what is  "rock", and you'd say white music and black music. And it became a problem for everyone, It became a big problem for black people because there was no outlet except disco and it became a problem for rock artists because you either had to go along with whatever was trendy in the press or you became an outsider, and we were obviously caught in the middle of all that, because we are people who do Afro-Euro soul music. So we felt very much on the outside right then…
---
For the full story of Daryl Hall & John Oates' early years, pick up Shindig! #91. buy here
Daryl Hall & John Oates are playing the following dates across Europe in May (see our clickthrough banner to order tickets):
May 1st: SSE Hydro Arena, Glasgow
May 3rd: Westfalenhalle, Dortmund
May 6th: Barclaycard Arena, Hamburg