Tim Presley discovery shines.
London Bush Hall, 08/09/2015
---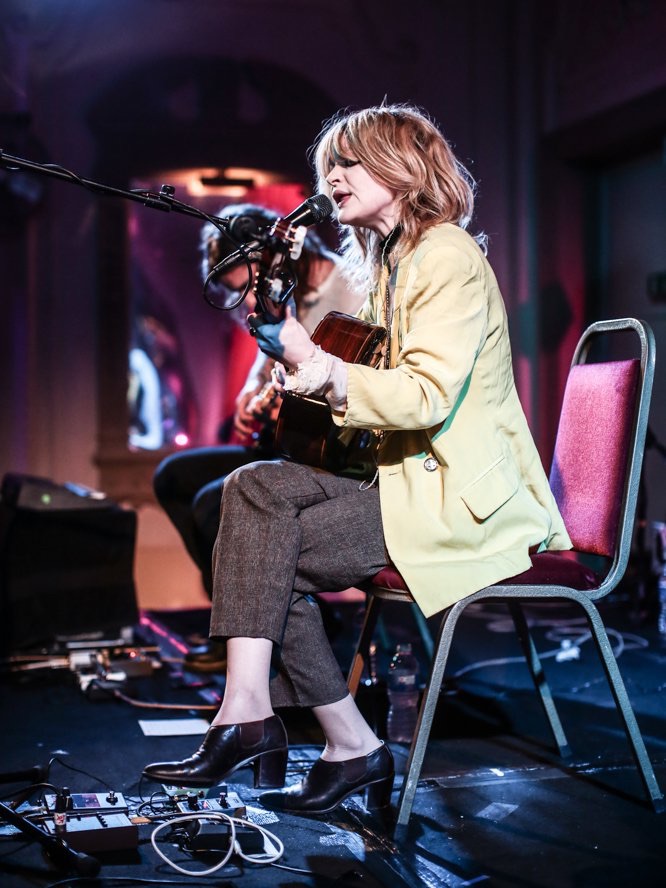 In the illustrious settings of this prestigious venue – "So this used to be a bingo hall? That's cool" – Jessica Pratt draws the crowd into the palm of her hand, tapping into the intimate surroundings and grandeur with her world of dimly lit, chanson-like charm. After an initial technical difficulty, the performance starts with 'Wrong Hand', the opening statement on her latest album On Your Own Love Again. Her voice tonight is sparkling yet lugubrious – like the sigh at the end of a twilight night when considering a day's passing. This is despite Pratt later admitting that "…I'm a little bit ill right now". 'Greycedes' also has a similar quality; the aural equivalent of staring into the middle distance whilst in love and trying to ignore the inevitable parting to follow.
What's clear tonight is that Pratt's songs have a tranquil and entrancing presence that is significantly enhanced here beyond their recorded counterparts. The lack of harmony vocals in the live setting only serves to reinforce her main vocal line, giving greater significance to the lyrics, whilst the interplay between Pratt and accompanying guitarist Cyrus Gengras revels in the fragility of the songs themselves. 'Games That I Play' gleams and bewitches the audience whilst 'Jacquelyn in the Background' retains the slight uplift in pitch at the tail end that, on the album, gives the impression that someone's accidentally nudged the varispeed controls on the recording console. 'Back, Baby' has the crowd indulge in an impromptu singing of the opening line with Pratt ('Sometimes I Pray For The Rain').
An exquisite reading of the song that started it all 'Night Faces' (from her initial demo-drawn debut) still feels like a long lost response to David Crosby and the Laurel Canyon community. 'Strange Melody' is another highlight; a rumination on truth and loss only heightened by the sparse instrumentation and spectral quality of its rendition here.
An encore of 'Titles Under Pressure' and 'Fortuna' brings the performance to a close and it's hard to argue with Pratt's own assessment of her visit; "I've played here (London) three times and it's always been special."
Marc Le Breton