CAMILLA AISA's playlist on the back of her Shindig! issue #86 BIG BROTHER & THE HOLDING COMPANY cover story
---
---
Big Brother & the Holding Company 'How Many Times Blues Jam'
We start off with, of course, our cover story champions. Four gentlemen and one great, great broad…Big Brother & The Holding Company! Their Sex, Dope & Cheap Thrills was one of the most exciting reissues of the year, so here's a thrilling studio jam to celebrate that and beloved classic Cheap Thrills' 50th birthday.
The Great Society – 'Free Advice (Alternate Version #1)'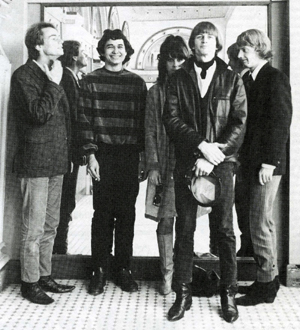 In our interview for the cover story, as we were talking about the early days of Big Brother, drummer Dave Getz recalled auditioning various singers, and deliberately looking for a woman. "That was the intention," he said, "inspired by other bands like the Great Society with Grace Slick. There were a few bands that had strong singers, but I think it was mainly the Jefferson Airplane that really set the template that we were looking at." In this alternate version of a pre-Airplane gem, Grace explores Eastern influences and redefines the concept of backing vocals.
The Beau Brummels – 'Magic Hollow (Demo Version)'
Featured in Shindig!'s guide to "lost" San Franciscan keepers, The Beau Brummels' Triangle (the band's fourth studio album) shines particularly bright thanks to single 'Magic Hollow'. In this demo recording, the song is stripped naked of its harpsichord magic – a nice way to retrace the ductile mid 60s permeability of folk and trippy rock.
Blackburn & Snow – 'Post-War Baby (Alternate Version)'
Speaking of folk getting edgier and hungrier… in the second half of the '60s acoustic darlings Blackburn & Snow went electric for an album that would be released some 30 years after the duo's breakup. 1967 single 'Post-War Baby' gets the deluxe treatment on the long-awaited compilation Something Good For Your Head: not only it proves that Sherry Snow and Jeff Blackburn were not your usual lifeless folk couple (hey, they could get groovy!), but they could also enclose a convincing West Coast jam in just one minute and forty-five seconds.
Mystery Trend – 'Carrots on a String (Audition Version)'  Read more Thrill Further: Outtakes, demos and alternate versions of San Franciscan favourites ›