The Stairs, 2016 Summer Tour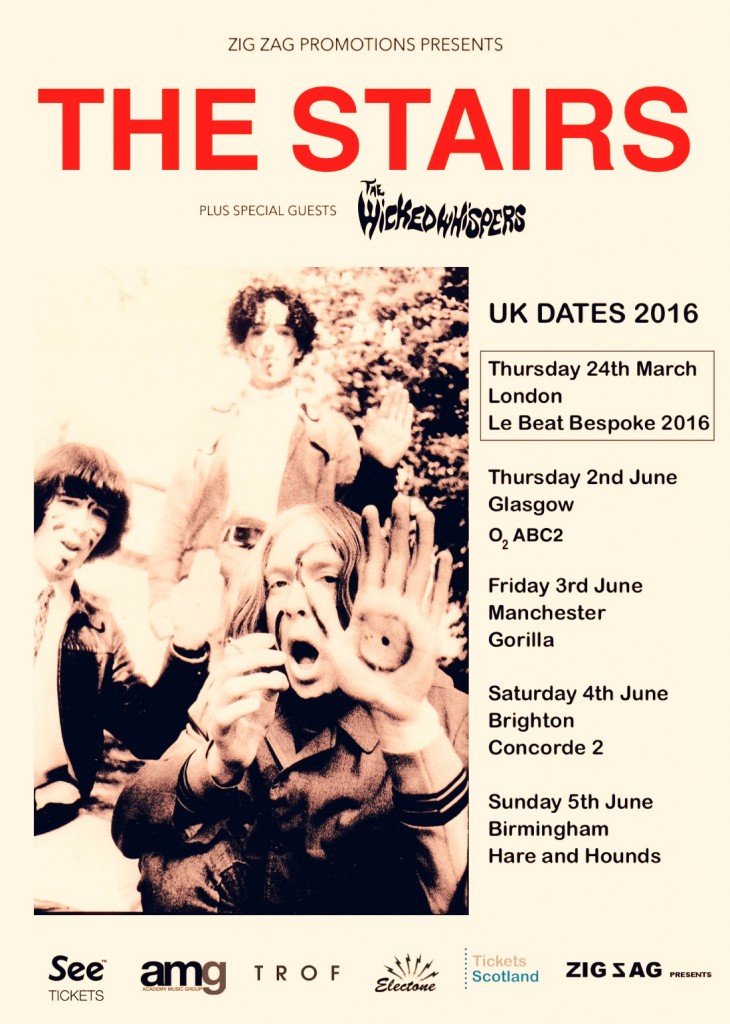 The Stairs – led by bassist/vocalist Edgar 'Summertyme' Jones (The Joneses, Paul Weller, Johnny Marr) and accompanied by original band members Ged Lynn (guitar/vocals) and Paul Maguire (drums)  – are back from 20 years of hibernation, refreshed and armed with their exciting hybrid of cosmic psychedelia, raucous R&B and '60s west coast garage sounds.
Following their live return last November, at The Butterflys Ball And The Grasshoppers Feast, the band will embark on a UK tour this summer courtesy of the ZIG ZAG CLUB.
Before playing the following dates they will also headline the Le Beat Bespoke weekend in London this Easter! Expect to hear favourites from their classic cult album Mexican R'n'B as well as new material and unexpected rarities.
Glasgow, O2 ABC2, Thursday 2nd June 2016.  TICKETS
Manchester, GORILLA, Friday 3rd June 2016.  TICKETS 
Brighton, CONCORDE 2, Saturday 4th June 2016. TICKETS 
Birmingham, HARE & HOUNDS, Sunday 5th June 2016. TICKETS 
Fellow psychedelic scousers The Wicked Whispers will be in support (and also performing with The Stairs at LBB). Following the release of their critically acclaimed debut album Maps Of The Mystic ("Psychedelic and interesting" – Huw Stephens, Radio 1) the band will release their brand new double A-Side 7" single 'Zodiac Girl'/'If I Set You Free' on Electone Records this June.