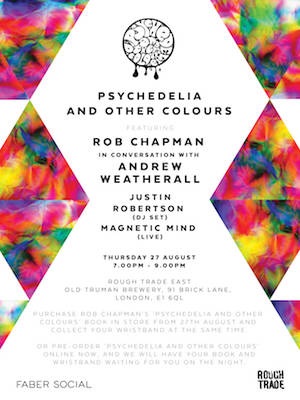 Rob Chapman author of Psychedelia And Other Colours in conversation at Rough Trade East. ASHLEY NORRIS attends.
---
So much has been written about the great British psychedelic trip of the late '60s, yet in a way so little too. For most of it focuses on the main protagonists – The Beatles, Stones and Floyd – and doesn't really attempt to answer other questions, such as why a thousand local beat bands jettisoned their club soul dance sounds and suddenly started singing strange songs about gnomes.
The accepted wisdom has always been that widespread use of LSD heralded an era of intense musical experimentation. Yet could it be that those bands were simply aping their heroes and hadn't ingested anything much stronger than a barrel or two of Watneys Ale?That's one of the key questions Rob Chapman, author of the bizarrely brilliant book about Syd Barrett, A Very Irregular Head, grapples with in his new book Psychedelia And Other Colours.
And tonight Chapman is taking stage at Rough Trade East to defend his fascinating contrarian pop views – sample "The Beatles were a girl group" – to serious devotees of the psych genre.
Later on The Magnetic Mind will deliver their inspired take on the harmony drenched poppy psych of bands like The Peanut Butter Conspiracy and Neighbourhood Children, but first up Chapman is in conversation with fanzine editor turned DJ, remixer and scenester the legendary Andrew Weatherall.
After the pleasantries, basically the pair relating their relative drug experiences and especially how they related to their consumption of music, Chapman then ran through what he describes as the forgotten history of psychedelia conjuring up a cavalcade of characters from the 19th and 20th centuries whose lysergic habits helped them create "music with colour". He also expands on the psychological uses of LSD – which initially fueled its popularity among academics and authors – and then why it became used for recreational purposes.
After the mechanics of the drug use came a dissection of the impact that it had. In the book Chapman spends a long time looking at the origins of the San Francisco music scene and especially how it eclipsed the more experimental art forms – drama and dance – which had accompanied the initial psychedelic renaissance. Ultimately, he argues, capitalism consigned the more radical arty elements of psychedelia to history as promoters discovered they could make an awful lot more money putting on The Grateful Dead than they could nudist mime troupes.
But it was stories about The Beatles and the UK psych scene that many of the punters had turned up to hear, and this is arguably the part of the book that is most groundbreaking and fascinating as Chapman looks at the various elements – Alice In Wonderland style fiction, the impact of the two world wars and more – which created that uniquely British trip.
Chapman has some hilarious views on the Fabs, as mentioned.  Those early covers and originals were as shaped as much by '60s female groups as rock and rollers; even the lyrics to some of their later material, in Chapman's opinion, are infused with northern female words and phrases. He also suggests how the cover of the White Album is much more psychedelic and groundbreaking than that of Sgt Pepper, which Chapman dismissed as the sort of stuff that Peter Blake had been doing for years.
Sadly, just as I expected to hear the last word on The Blossom Toes and Skip Bifferty, the pair's allotted time ran out.
Overall then, the evening was fantastic taster for the book, which, if you haven't invested in yet you really ought to. Brilliantly written, crammed full of original ideas and, dare I say it, a little educational too. It is a marvellous read.