From The Archives: Watch The Flowers Grow – A Guide To Unusual Forays Into The Weird
All the way back in issue #29 (in the gold ole days of 2012) SIMON NORFOLK penned this cool guide on groovy sounds from established artists
---
"This is the dawning of The Age Of Aquarius," they sang. Sexualised hippidedom had reached musical theatre. Everyone knew The Beatles had smoked those funny cigarettes and gone weird. And what in the hell were all of these young people doing growing their hair, painting flowers on their naked bodies and becoming turned on?
At Shindig! we are more than aware how "The Now Sound" was the result of the faddism of Sergeant Pepper and San Francisco. How the scorned upon had become the norm and how somehow it seemed more than natural for square pop stars to temporarily wave a freak flag.
Here is the first part of our rough guide to "Squares Go Hip Sounds" focusing on the kaleidoscopic pop of the American masters – in future issues we intend to visit the shores of the UK as well as Europe and beyond.
While not fully embracing the counter culture "the old guard" did open their arms to the paisley patterned new world by adapting the latest "kitchen sink" studio techniques ushered in by Pet Sounds, let their greased back and beehived hair down and adorned themselves in Nehru in an attempt to save their flagging careers.
Don't expect insane phasing or wig-outs that stretch the entire side of an album, but think of the sun dappled pop of The Millennium, the harpsichord infected baroque of The Left Banke, think of Andy Williams in his kaftan listening to his Ravi Shankar album while Claudine Longet takes a phone call from Roger Nichols. Imagine A&M records, Alice.B Toklas and Peter Sellers in The Party… yes, just for a brief moment things got a little odd and ever so slightly groovy.
Your guru: SIMON NORFOLK
DEL SHANNON
Colour Flashing Hair [The Further Adventures Of Charles Westover album track, Liberty 1967)
By The Summer Of Love Shannon was practically a washed up pop star, but during this semi-wilderness period he turned out a classic of the psychedelic era replete with orchestrations a la Sgt Pepper and some wonderful studio trickery. 'Colour Flashing Hair' is surreal and much more psychedelic than a lot of The Avalon Ballroom bands of the day and the song, and much of this truly brilliant album, sound like a magical transatlantic cousin to Billy Nicholls' Would You Believe. Yes. That good.
BOBBY VEE
I May Be Gone (7" B-Side and Come Back When You Grow Up album track, Liberty, 1967)
Even teen idol Bob was on side in 1967, yet the hits were fading fast. The album Come Back When You Grow Up was his attempt at a much-needed new direction – if you dig your psych-pop orchestrated and full of sunshine then grab this. Recalling bands like The Yellow Balloon and Sagittarius it's an ambitious album, but not in an overblown way. 'I May Be Gone' is an attitude-laden slice of dark garage-pop and a million miles from the bouncy, bouncy 'Rubber Ball'.
TOMMY ROE
It's Now Winter's Day  (7" and It's Now Winter's Day album track,  ABC, 1967]
Curt Boettcher was on production duties for this neglected Summer Of Love jewel.  It's not even close to heavy-psych but is nevertheless dosed in subtle fuzz, vocal choirs and, naturally, with Curt on board, arrangements to die for.
'Moontalk' is a wacked out space love song, full of the innocence of the pre-moon landing age, but the prize goes to the title track, 'It's Now Winter's Day', which is a blissed-out to hymn that chilly season and evokes visions of snow topped mountains and open fires in log cabins. You could say, it's like Brian Wilson taken away from the Californian surf and exiled in The Rocky Mountains.
THE FOUR SEASONS
Watch The Flowers Grow (7" Philips, 1967)
Another band on their fall from grace – Frankie and the boys delivered this wonderful slice of off the wall psych-pop to a nonchalant record buying public in 1967. The song begins with an almost raga like chant before thundering into a fantastic three minute ride into the paisley patterned sunshine – "Listen to my thoughts and take a ride / I shall give you all you've been denied" sang the chaps from New Jersey. Socially conscious concept album digging  longhairs ignored it in their droves and it would not be  until the mid-70s before they found favour again, but all fool them. This is bendy psych par excellence.
Also recommended is their Genuine Imitation Life Gazette album from 1969. File under lost epic.
ROY ORBISON
Southbound Jericho Parkway (7" B-Side, MGM, 1968)
Naturally we were sceptical when we heard that The Big O had dipped his toe into The Now Sound, but after experiencing this ambitious flip side with its sitar intro and various complex tempo changes, lyrics dealing with suicide and mind expansion we were smitten. Even by Roy's standards this is one bummer of a trip and it deserves your attention.
It's no surprise to discover that Neon Philharmonic's Don Gant and Tupper Saussy carry out the production duties – their ambitious and over the top pop-psych is also well worth investigating.
"You always seemed so out of reach / and the psychedelic sign said: peace."
PAT BOONE
Song To The Siren (Departures album track, Tetragrammaton, 1969)
A lesser-known track from Boone's huge back page. Before This Mortal Coil were covering Tim Buckley Pat jumped in and took a decent shot at 'Song To The Siren'. This was a totally different ground for him and nothing like he had done before, but yes, it works, although we're not sure about the pirate '"Yo ho ho and a bottle of rum" intro. Still, it's well worth checking out.
The most impressive aspect about this recording is that it would not be until the following year that Buckley committed it to vinyl, despite famously previewing it on The Monkees TV show in 1968.
JULIE LONDON
Sunday Morning (Yummy Yummy Yummy, album track, Liberty, 1969)
By 1969 it was all but over commercially for the princess of pop Julie London, but she had about just enough time to tackle some hits of the day – 'Stoned Soul Picnic' / 'Light My Fire' and a fantastic lounge take of Dylan's 'Mighty Quinn'. Her fan base probably didn't condone her move into Now Sound pop, although it didn't stop her. London's take on Margo Guryan's 'Sunday Morning' via Spanky & Our Gang's hit is so damn near perfect, the strings are huge and the arrangement suits her smoky vocals perfectly. It's a weary, sad take and her voice is tired, rather than sensual and seductive, but then nobody ever complained about Big Star's third album did they? Julie retired from singing around '70, so we're glad she decided to make the foray into hip before she threw it all in.
BRYAN HYLAND
On The East Side (Bryan Hyland album track, UNI, 1970)
Del Shannon produced and co wrote this gorgeous out of step pop gem from Bryan's "What next?" period. The album it's taken from is strong enough in itself, and there are another four co-writes from Del on it too, but 'On The East Side' is by far the most sublime. It's not that far removed from the sound of the aforementioned Charles Westover album, all weeping strings, muted brass and subtle Hammond organ complimented by some ever so slightly treated, wobbly vocals. Hyland's version of Curtis Mayfield's 'Gypsy Woman' is also worth the dollar bin price tag of this forgotten treasure.
GENE PITNEY
Animal Crackers In Cellophane Boxes (7" B-side, Musico, 1967)
You're generally safe with anything with a Bonner/Gordon writing credit on – '[Till I] Run With You' / 'Happy Together' / 'Me About You' – as they seem to have that certain knack of creating joyous pop while managing to convey an otherworldly sadness. Discovering they had penned Gene's out there pop ditty was a real surprise. At less than two minutes in length  'Animal Crackers In Cellophane Boxes' still manages to hit on jazz, psychedelia and some throwaway Kasenetz Katz style bubblegum. A fun and ever so lysergic disc that like the bulk of these tunes can be had for the price of a comic.
BOBBY DARIN
Long Line Rider (7" and Bobby Darin Born Walden Robert Cassotto album track, Direction, 1969)
It's a pleasure to end this piece with a bit of funky country influenced rock from Bobby Darin.
You Tube shows him rocking this out with a bunch of guys who look like extras from The Trip – fat back drums and brass carry this dance floor monster way beyond the sea and push Bobby into the cosmos, way past the LA supper club circuit into a whole new thing of his own. The lyrics deal with an incident in a US jail where the skeletons of three prisoners were unearthed in 1968 – gruesome!
The '68 album Born Walden Robert Cassotto is well worth tracking down too – it's a nice mixture of soul influenced country with some outings into folk and psych plus some killer drums.
"There's a farm in Arkansas / got some secrets in its floor."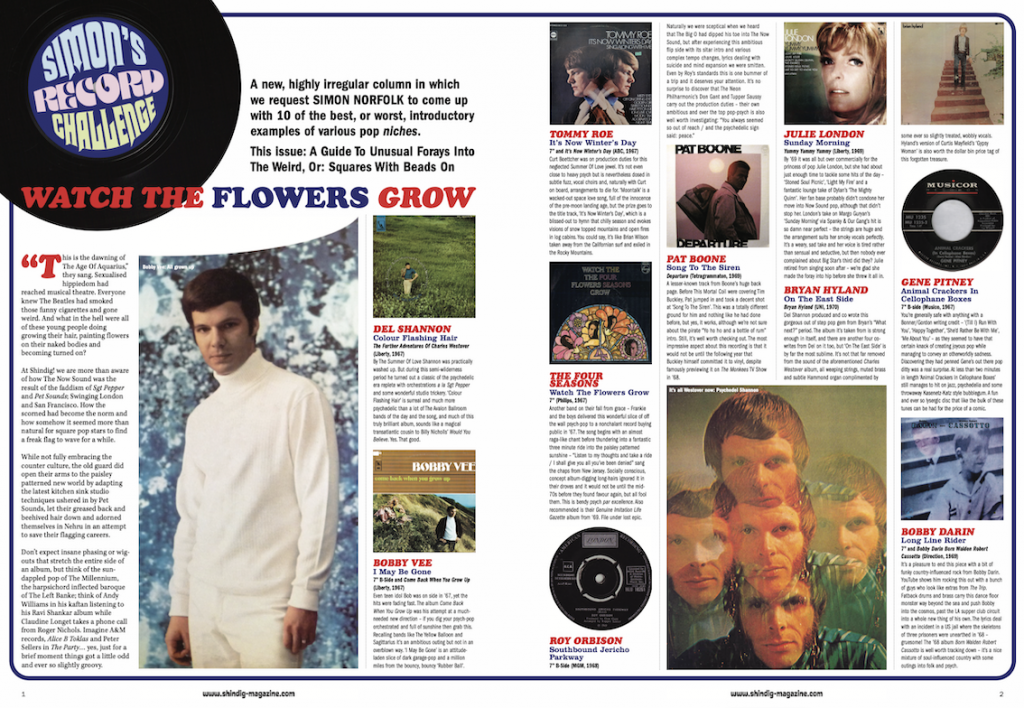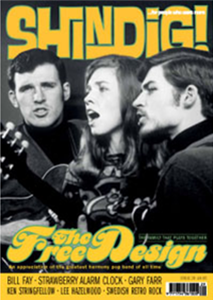 Order the back issue here