Jim Jones confirms guests for London show.
Rabble-rousing singer JIM JONES has hinted that a reunion of the much-missed JIM JONES REVUE might well be on the cards as part of JIM JONES AND THE RIGHTEOUS MIND homecoming gig at The Garage in London on 21st September. BEN ADLAM digs deeper for SHINDIG!
---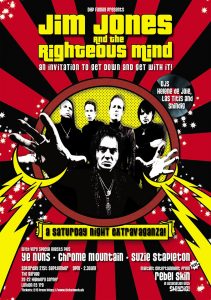 Jim Jones has confirmed the addition of further guests, who will play as part of Jim Jones and the Righteous Mind's headlining set. These include soul singer Sister Cookie, The Urban Voodoo Machine's frontman Paul-Ronney Angel and baritone saxophonist Luci Fire Tusk, as well as The Future Shape Of Sound's tenor sax player Stuart Dace. The Dirty Strangers' Alan Clayson will also be appearing.
They will join the supporting line-up of Ye Nuns, Chrome Mountain and Suzie Stapleton, as well as dancers Rebel Skin and DJs Helene De Joie and Las Titis and the crew from Shindig! Magazine.
Speaking with The Harbour Bazaar's Steven Hastings on Southend's Ship Full Of Bombs radio network, Jones teased "There's a possibility that there may be some original members of The Jim Jones Revue joining us for the encore. I'm not saying for sure one way or the other"
Our own Jon "Mojo" Mills was unable to gain more clarification on this when Jones was one of the guests of The Shindig! Broadcast on Soho Radio this afternoon (3rd September) Listen here.
Jim Jones and the Righteous Mind's new filthy single, 'Get Down Get With It' is released on 19 September as a limited-edition, pink vinyl 7" single, it will only be available on the band's autumn tour and select record stores.
Here's those tour dates in full:
SEPTEMBER
19 – York, Fulford Arms
20 – Manchester, Night & Day Café
21 – London, The Garage
22 – Bristol, The Exchange
26 – Norwich, Waterfront
27 – Brighton, Green Door
28 – Cardiff, Clwb Ifor Bach
29 – Southampton, Joiners
OCTOBER
03 – Southend, The Railway Hotel
04 – Hastings, The Piper
05 – Bedford, Esquires