DARYL HALL & JOHN OATES: THE EXCLUSIVE ORAL HISTORY, PART 1
In Shindig! issue #91, out in shops on May 2nd, we're running a fascinating feature on the early years of chart-topping musical titans DARYL HALL & JOHN OATES, covering their early and often overlooked beginnings, which included stints in Philly soul groups, and encompassed a trio of fabulous LPs released on Atlantic Records.
Ahead of a tour that will see them play arenas across the UK at the end of April, their first tour on this side of the pond in five years, here is an exclusive online treat as Daryl Hall & John Oates tell the tale of their nascent musical careers to THOMAS PATTERSON
---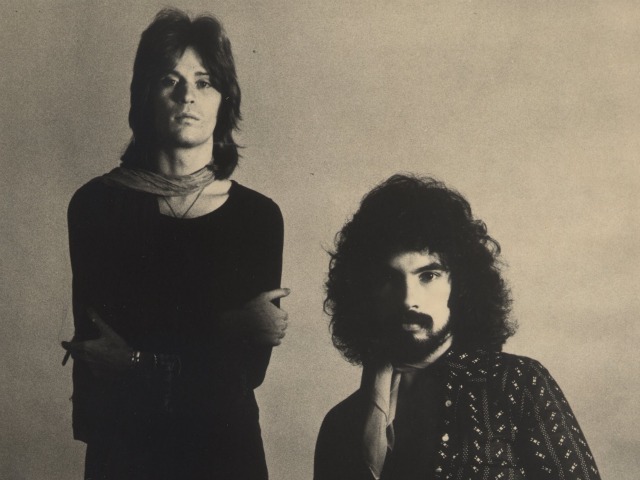 JOHN OATES: As a little kid I sang. I was born in New York City and my earliest memories are walking around the streets as a little baby as soon as I could talk, and my proud aunt and grandmother would always tell a tale that I would sing for the guys who were working at the garage, they would make me sing. I have a recording of me singing a children's song at four-years-old that was recorded at Coney Island in a little phonograph booth and then a few years later I was singing an early Elvis song when I was about six or seven, so I was singing somehow naturally. I began to take guitar lessons at six years old, and I did a talent show at the Jersey Shore around the same age.
My family's from New York but my father was relocated to the countryside outside of Philadelphia when I was four years old, so I grew up in a small town in Pennsylvania outside of Philadelphia. And during that time I was listening as a little kid to Philadelphia radio, to the early days of rock 'n' roll. Philadelphia was an interesting radio scene because it was one of the first cities in America where radio stations embraced rock 'n' roll early on, and I remember when this one pop radio station which was playing Patti Page, Johnny Mathis and a lot of the crooners of the early fifties, made a conscious decision to convert to a rock 'n' roll format. That was a big deal, and I remember listening to Fats Domino and Chuck Berry and Little Richard and Elvis and all the early rockers who were around at that time. So that's how I was really introduced to the early days of rock 'n' roll through Philadelphia radio that I was listening to.
And as the years went on, growing up in this small town, I gravitated towards Philadelphia because it was only an hours train ride away and I would go there and do the things that teenagers do, buy clothes and buy records and things like that. I loved R&B but eventually I got interested through a friend of mine's older brother who had come back from college in the early sixties in the emerging folk music revival that was happening and I began to pour through records that were more traditional Americana, I guess you'd call it. Bluegrass, Appalachian, delta blues, that kind of stuff.
DARYL HALL: My mother was in a band and my father was also in a singing group, a sort of gospel group, and yes, I come from a very musical background. From the very beginning, I was on the stage with people. Singing in church even! In America, that's show business.
I had a teenage band and we used to play locally outside of Philadelphia, and as soon as I moved into Philadelphia at 17, that's when I started with people that I was meeting at the time, which was Kenny Gamble and Leon Huff, and all those people who were just starting out themselves. I used to go to a place called The Uptown Theatre in North Philadelphia, which is like the better-known Apollo Theatre in New York City, with my band at the time, The Temptones.
JOHN OATES: I was in a group called The Avalons, which I joined in 8th or 9th grade, I can't remember, so I was about 14 or 15, and since I was a better guitar player than the existing guitar player, he decided he'd learn bass and I remained on guitar. That group became The Soul Sound Continentals and eventually we changed the name to The Masters when we made our first record in  '67.
It was one of those things where the band paid for it ourselves and we had a little acetate, which is what you would take away from the studio, and there was a place called the Record Museum on Chestnut Street, which featured old singles and obscure records. I used to love to go there and hang out and buy records at that little shop. We went down there one Saturday morning with the acetate in hand and said to the guy behind the counter, "Hey we made a record, do you want to hear it?" and he put it on the turntable and said, "Hold on a second," and he got some guy from the back who came out and said "Oh that's cool, what are you guys doing with it?"
We ended up being the second song ever to be released on Crimson Records. The first one was 'Expressway To Your Heart' by The Soul Survivors.
DARYL HALL: The Temptones did a talent show at The Uptown Theatre, like the Talent Show at the Apollo, and we go onstage and we sang a song and we won a prize to cut a record with Kenny and Leon.
It became a minor hit on WDAS in Philadelphia, and a few other R&B stations. In those days, a regional scene was not unheard of. My whole world was Philadelphia back then, so the fact I got on the radio in Philadelphia was a big deal to me. I then continued my relationship with those guys and we cut a few more songs with them that Leon wrote.
You've got to understand the times and the place. Philadelphia was a very racially and musically integrated place, not unlike New Orleans. It wasn't any kind of issue for white people/black people all working together and singing. It's the sound of Philadelphia. It's very gospel/soul oriented with other elements that are distinctive to that region. I was just doing Philly music. I didn't look at it as any different.
I became a fixture at the Uptown Theatre, and I was hanging out there. In those days they called it the Chitlin' Circuit, which was mostly black people from all over the country coming through places like the Uptown Theatre. And I was hanging out there, sometimes playing in the house band, doing various things, and The Temptations were one of the superstars that came through and I became friends with the Temptations at about the age of 18 and started hanging out with them. I would get them coffee and take their clothes to the cleaner and hang out with them, even after hours. We'd go back to whatever hotel they were in in Philly, and usually David Ruffin wasn't around because he had other things going on in his life, and I would take David's part and just sing. I would sit around and sing with The Temptations because that's what they would like to do.
I got session work through all these connections. I was working not only with Gamble and Huff, I was working with a production company run by a guy called John Madara and it was really session work and he would just have me sing on it.  Lenny Barry was also hanging out in the John Madara camp. John Madara had written a song called '1-2-3' which was a national hit in the mid-sixties and he was hanging around and I was friends with him and he was in a band called The Dovells for a while, and Chubby Checker was around, I wrote a couple of songs with him. These were the people I was paling around with.
JOHN OATES: I had heard The Temptones record on the radio as it was being played alongside my record, and then both groups played at a record hop that a DJ was doing on a Sunday afternoon in West Philadelphia, in a pretty bad neighbourhood, and a big gang fight broke out and we basically escaped in the elevator and onto the street, and that's how we met, literally.
"Oh yeah, I go to Temple University, so do I." That's pretty much the extent of the conversation we had that day, but then Daryl and I ran into each other somewhere on the streets in north Philadelphia. And you have to remember that Philadelphia and the Philadelphia music scene was pretty small in those days. Among musicians, pretty much everybody knew each other. So we ran into each other and the backdrop is the Vietnam War. Two of the guys in my group were older than me and they both got drafted into the service and my band effectively broke up.
DARYL HALL: One of the original members of The Temptones joined the air force to avoid being drafted. And one of the other guys, I think his father said he couldn't do it anymore, so he had to quit, he had a very overbearing father, so we made a couple of replacements. And then oddly enough, at the very very end, we needed a guitar player and John Oates came in, this kid that I had met. And he started playing guitar for us. And that didn't last very long, but that was when I first started working with John.
JOHN OATES: I was at a crossroads. I was still doing my band stuff, playing in coffee houses, but obviously not with a band. I met Daryl and he had lost the guitar player who had been a backup musician for his group. And he said to me, "Hey do you want to play guitar for us?" and I said "Sure." And I joined the group very briefly as backup guitar player and that group broke up pretty quickly thereafter, and Daryl and I gravitated towards each other. I think we both recognised a creative spark and we just started hanging out.
We dabbled playing music in the late '60s, '68-69, but Daryl was doing some studio work, playing bars, he was making money. He was digging the fact that he was playing at night, making some decent money. I was still running around town, playing in blues bands, and playing folk music.
DARYL HALL: John then took a break and wandered around Europe for a while. And I was living in a house on Quint Street in Philadelphia. And he was away for about six months and he came back and he didn't have anywhere to stay and I said, "Why don't you move in here?" It was a small house, and I had a wife at the time, my childhood wife. So we all sort of lived together in the house and because of proximity I started banging around with him, sitting on the front step and playing things.
JOHN OATES: Our creative relationship was based on not having a band. That was the whole idea. Daryl was not satisfied in terms of what he was doing, he was playing with a couple of different groups, but he wasn't happy in that situation. I had just come back from Europe and I didn't have a situation. I probably thought I'd just become a blues guitar player or folk singer or whatever. I didn't know what I was going to do. Our creative relationship was based on an alternative to situations that weren't happening. He said, "Look, we're both in situations where things aren't really happening, why don't we just play together and see what happens?" Daryl would play a song, and I would accompany him. He'd play on piano and I'd play on guitar. I'd play a song on guitar and he'd accompany me on piano. And that's how it worked. It was two guys who were independent who just accompanied each other and little by little that became more of a collaboration, and that became more of a sound.
DARYL HALL: We didn't like the complications of band democracy. I'd worked with enough crazy guitar players and drummers, and so had John, to say, "I think we should be running whatever this is. Let's run it, and hire people," which is what we did. We very quickly had a bass player and a drummer, but they were subordinate to us, it wasn't a band in that respect and that's how we've always done things.
We've always been separate writers. Our philosophy was at the time was we're two writers and we're going to share the stage, but we're two individuals, and we've always been a stickler for that and said we're not The Everly Brothers, it's different, we're two distinct personalities, and we have our own agenda and our own evolution. I think even back then we realised that and we were trying to work within that.
JOHN OATES: Not only have we always written separately, but we've always thought of ourselves as separate individuals. Which is why we always bristle at the idea of being called a duo, because we're really not a duo. We're two guys who are independent creative people who work together. That's the way we look at each other. And when you look at our albums, I know it seems to be a subtle point, but it says Daryl Hall & John Oates. It never says Hall & Oates even though the world calls us that because it's more convenient.  We're called Daryl Hall and John Oates for a reason, and we made a point of that because we wanted to be perceived as individuals and that is why to this day we work separately, independently of each other and it's why we're still able to work with each other.
IN PART 2 OF OUR EXCLUSIVE ONLINE INTERVIEW, DARYL HALL &JOHN OATES TALK ABOUT THE FABULOUS AND INFAMOUS COVER OF THEIR EPONYMOUS FOURTH LP, AKA THE SILVER ALBUM.
FOR THE FULL STORY OF DARYL HALL & JOHN OATES' EARLY YEARS, PICK UP SHINDIG!#91.
---
DARYL HALL AND JOHN OATES ARE PLAYING THE FOLLOWING DATES ACROSS THE UK:
APRIL 24th: RESORTS WORLD ARENA, BIRMINGHAM
APRIL 26th: WEMBLEY SSE ARENA, LONDON
APRIL 28th: MANCHESTER ARENA, MANCHESTER
MAY 1st: SSE HYDRO ARENA, GLASGOW