The Flaming Lips return with long awaited new album 'Oczy Mlody'
THE FLAMING LIPS are pleased to announce the release of their long-awaited new studio album, entitled OCZY MLODY, on 13th January 2017 via Bella Union. Produced by the band and their long-time producer Dave Fridmann, the highly-anticipated LP is the follow-up to their globally acclaimed 2013 album, The Terror. The Lips have also shot a video for the album track 'The Castle'. Filmed in Oklahoma City, the video is as emotionally affecting as the song itself
---
Three-time Grammy-Award winners, The Flaming Lips are one of the most enduring, influential, unpredictable, and universally respected bands of their generation or any other. Led by Wayne Coyne, they have been cited as the ultimate live attraction and life-affirming festival band who continue to dazzle audiences with their over-the-top, maximalist, high-energy onslaught on the senses. On Oczy Melody, the Lips return to form with an album no less experimental in nature, but perhaps more melodically song-oriented, recalling the best parts of their most critically applauded albums The Soft Bulletin and the gold-certified Yoshimi Battles The Pink Robots.
Oczy Melody is available for pre-order beginning today. Fans who pre-order the the album from the band's official website, will receive an instant download of 'The Castle' and three more tracks in advance of the album's release date. The album will be released in several configurations: a 12-song CD, a 12-song digital version as well as a 12-song double-LP vinyl edition – pressed on coloured vinyl and an 11-song single-LP vinyl edition (both of which include a digital download card of all 12 songs on Oczy Melody).
Click here for a deeper inside view into the making of Oczy Melody from Wayne himself.
Naturally The Flaming Lips will tour the world in support of Oczy Melody, including two UK shows in January:
Saturday 21st January – LONDON – Brixton Academy
Sunday 22nd January – MANCHESTER – Academy
Since releasing The Terror The Lips have released 'With A Little Help From My Fwends', a star-studded track-for-track tribute to The Beatles' Sgt. Pepper's Lonely Hearts Club Band that featured special guests My Morning Jacket, Miley Cyrus, Moby, Phantogram, Tegan and Sara, and many others. They also collaborated with Cyrus on her 23-track experimental album Miley Cyrus & Her Dead Petz. Miley Cyrus returns the favour by adding vocals to 'We A Famly', the final track from Oczy Melody.
Oczy Melody will be released 13th January on Bella Union (Warner Bros Records in the US). Album artwork, tracklisting and new Flaming Lips photo by George Salisbury below: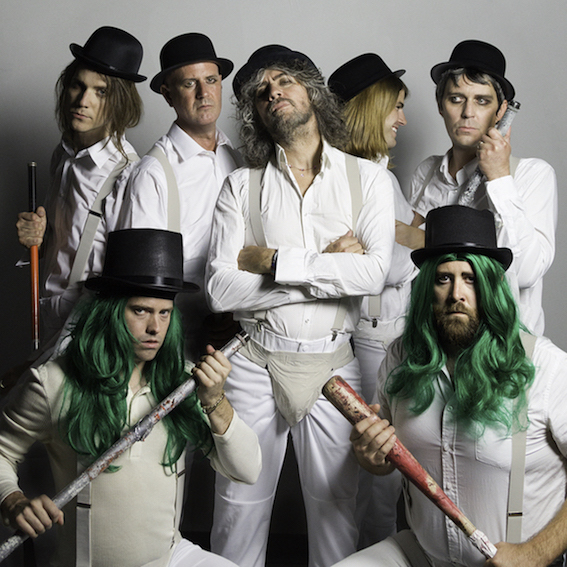 OCZY MLODY track-listing below:
Oczy Mlody
How??
There Should Be Unicorns
Sunrise (Eyes of the Young)
Nigdy Nie (Never No)
Galaxy I Sink
One Night While Hunting For Faeries and Witches and Wizards To Kill
Do Glowy
Listening To The Frogs With Demon Eyes
The Castle
Almost Home (Blisko Domu)
We A Famly