A top Paul Jones cover from Darren and Papernut Cambridge
---
For 15 years, and over 14 albums, Darren Hayman has taken a singular and erratic route through England's tired and broken underbelly.  Influenced by punk through his art college years and then American lo-fi indie in the '90s he fronted John Peel favourites Hefner. His solo career has earned widespread critical acclaim with his many and varied projects including his Essex trilogy, his Lido album, and recently a project to set the poems of William Morris to music entitled Chants For Socialists. His forthcoming album Thankful Villages is due out on Rivertones in June.
In addition to his solo career, Darren has been moonlighting as the drummer in Papernut Cambridge, the sprawling pop collective led by former Death In Vegas guitarist Ian Buttonand pals, described by Mojo as "An escapist mix of 70's glam, Nuggets-psych and 80's indie, all balancing pop bliss and more sinister psychological depths". And now Darren has stepped out from beyond the drumkit to record two cover versions, with Papernut Cambridge as his backing band – 'I've Been A Bad Bad Boy' by Paul Jones, and Big, Big Deal' by Steve Harley & Cockney Rebel.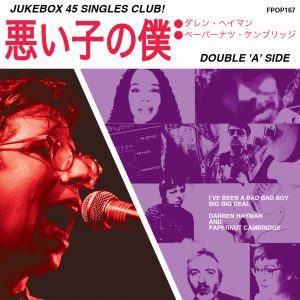 The single is to be released on Purple Rain Coloured Vinyl 7" (Limited to 300 – part of Fortuna POP!'s Singles Club)
 Darren explains:
"To me it seems like Papernut Cambridge is the band Ian wanted when he was a teenager but only got around to doing now. Everything Papernut Cambridge does is like a hazy, mash-up version of a '70s rock band. A group that might have guested on Marc one week and never be seen again. I also wanted Papernut Cambridge to belong to that era where bands covered each other songs and backed each other on different releases. To that end, even though Ian has recorded his own version of 'Bad, Bad Boy' on Papernut Cambridge's Nutlets record, I asked Ian if I could record my own version with the 'nut backing me. I feel like Ringo stepping forward. I am the singer in my favourite band.
"Oh and by the way, I am a bad, bad, boy, I'm also kind of a big deal."