The Chris Robinson Brotherhood's new LP 'Anyway You Love, We Know How You Feel'
Chris Robinson told Shindig! about 'Narcissus Soaking Wet' in issue #55's 'In The Studio' feature, so here it is. A new, funky groove for the guys
---
The Chris Robinson Brotherhood have announced the release of their fourth studio album, Anyway You Love, We Know How You Feel, on July 29, 2016 via Robinson's own Silver Arrow Records. The band relocated to northern California for the sessions, recording on the side of a mountain overlooking the foggy Pacific Ocean and channeling the natural majesty of their surroundings into the album's eight sprawling tracks. Having spent the prior two years touring relentlessly, the CRB were road-tested and in peak form to capture their kinetic chemistry and immersive sound, which Uncut Magazine deemed, "…a celebration of how American musical traditions can be at once honored and psychedelically expanded." 
"It was an opportunity to see where our expression could take us. For us, when it comes to making records, the looser it gets the better," says Robinson. "It's all about taking our intuition and following it to where our ideas can really manifest themselves. This turned out to be the most spontaneous record I've ever been a part of."
Indeed, when The Chris Robinson Brotherhood entered the studio to begin recording the album, no one knew just what to expect. These would be the band's first recordings with new drummer Tony Leone (Ollabelle, Levon Helm) and their first time producing themselves. Robinson purposely left as much open-ended as possible. Rather than coming into the studio with a collection of finished songs as he had in the past, Robinson would present the group with sketches—a verse and melody here, a chorus and chord progression there – and let the band follow its collective muse to bring the music to life. They'd lean into the improvisational nature that makes their live shows such enthralling spectacles and thrive on the unexpected. 
"All it takes is one good, small idea, and then if everyone's focused and in the moment, a few hours later, you can have something that you realize you'll be playing for as long as you're making music," Robinson continues. "I think when everyone's aware that that's the sort of magic that we're looking for. More than any other session that I've ever been a part of, that's how all of these songs were done."
The album kicks off with 'Narcissus Soaking Wet', a psychedelic toe-tapper that marks Robinson's first co-write with keyboardist Adam MacDougall and touches on everything from Dylan and Parliament Funkadelic to psych-rock and Chicago rhythm and blues. 'Ain't It Hard But Fair' calls to mind the soulful Americana of The Band, while 'Oak Apple Day' is a mediation on life in the CRB, and 'Forever As The Moon' came together in a stream of consciousness between Casal and Robinson. 'Leave My Guitar Alone' was a song Robinson had been sitting on for nearly 15 years, but only once he presented it to the rest of the band did it roar to life in a way that had eluded him for more than a decade. Some of Robinson's finest writing to date arrives in the album's final minutes, with the country-soul, gospel-tinged closer 'California Hymn', which finds him singing "Glory glory hallelujah / It's time to spread the news / Though my good words may sound profane to some".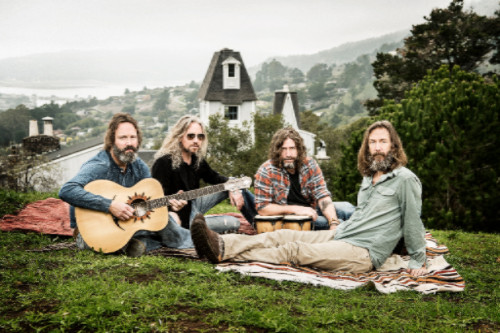 The Chris Robinson Brotherhood emerged in 2011 by playing close to 50 shows over nine weeks in California before ever leaving the Golden State or officially releasing music. Their introduction on the national stage came in 2012 when they'd release not one, but two acclaimed full-length albums within a few months of each other. Critics hailed their sprawling debut, Big Moon Ritual, as a revelation, with The Independent raving that Robinson had "finally found the ideal vehicle to indulge his taste for 'Cosmic California Music'." The reviews were similarly ecstatic for its immediate follow-up, The Magic Door, which was praised by Relix as "classic rock in the finest sense". The band's epic tour schedule brought their shimmering acid-Americana around the world for a staggering 118-date tour, firmly establishing the CRB as the new standard-bearers of the psychedelic roots torch. In 2014, they returned to the studio for Phosphorescent Harvest, a masterful collection that showcased the blossoming songwriting partnership between Robinson and guitarist Neal Casal. Rolling Stone raved that the album was "electrifying…boast[ing] a vintage rock vibe that's at once quirky, trippy, soulful and downright magnetic," and Guitar World called it "a treasure trove of soul that advances the band's bluesy, kaleidoscopic sound". 
The Chris Robinson Brotherhood will tour throughout 2016 in support of Anyway You Love, We Know How You Feel, including Summer festival appearances at Mountain Jam, High Sierra Music Festival and LOCKN'. They've also recently announced the addition of bassist Jeff Hill to the line-up. Individually, Robinson has also launched his own SiriusXM radio show, Gurus Galore, to share favorite psychedelic gems from his expansive record collection.With a new record in hand, their first tour of Europe this past Winter and a growing number of sold out shows across the U.S., Robinson is as energized as he's ever been in what's already been a long and historic career as one of rock and roll's most prolific and successful songwriters and frontmen. 
"This band is about being a part of a community, it's our little CRB culture," explains Robinson. "These are our services when we play our music. And when it's at its best, we feel like the music makes a connection with people that's on a level that has nothing to do with commerce or nostalgia. There's some other gravity that keeps us all together in those moments, and it's representative of that kind of magic spell we're chasing."